Building a Patio Bar: What You Need to Know First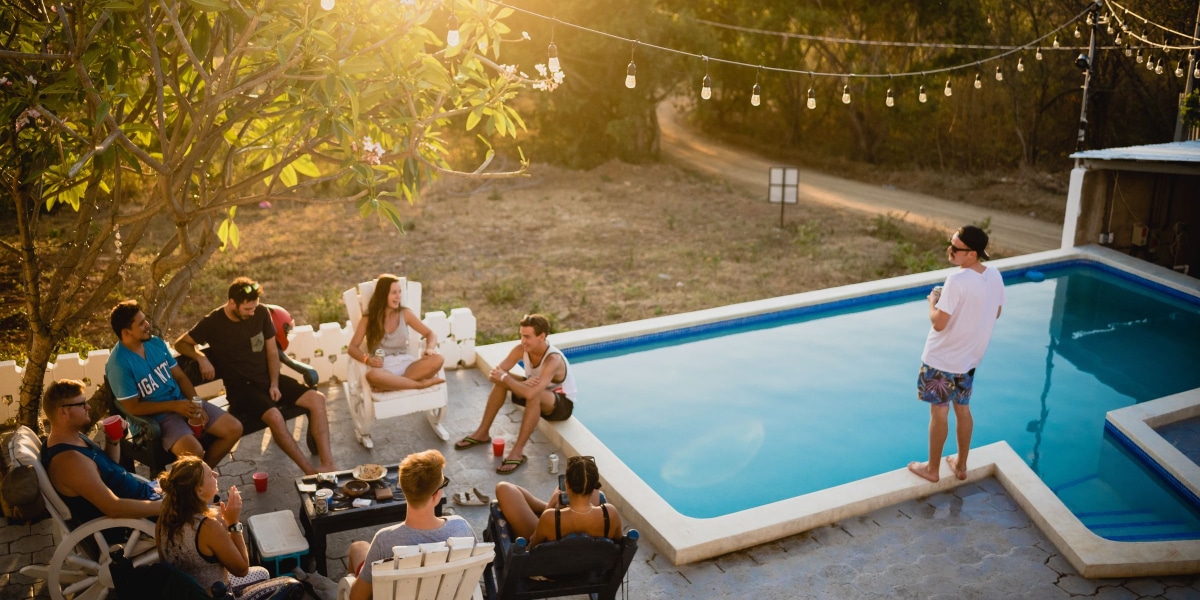 Now that summer is in full swing, you may be thinking of ways to maximize your backyard barbecues and family gatherings. Sure, a cooler of beers in the backyard is perfectly fine, but if you want to take your parties to the next level, a patio bar is an awesome addition.
Before you set to work creating that new addition to your shindigs, here's everything you need to know about building a patio bar, from the bar-building experts at Hardwoods Incorporated:
Choose Your Spot
First, you need to figure out where you'll build your new patio bar. In the outdoors, it's important to choose your spot carefully.
Make sure the location you choose is in as level a spot as possible, preferably on a deck or patio. If your area is prone to heavy rains and flooding, you might want to make sure that your spot is elevated enough off the ground that any water damage will be decreased.
If you plan to include refrigeration or be able to make blended drinks at your patio bar, be sure to find a spot close enough to an exterior outlet with safe grounding. Or, if that isn't possible, consider getting a small, quiet generator to run power from.
Be sure to check out your spot at different times of day to see how much sun or shade it gets. Though full sun isn't necessarily a deal-breaker on your chosen location, it may mean you need to design the bar with a built-in patio umbrella to keep you and your guests cool.
Get Measurements
Before you even start designing and thinking about materials, you want to figure out exactly how big your bar should be. Larger bars, of course, are going to cost more, so if you're worried about budget you may need to adjust your dimensions down a bit to fit more in line with what you'd like to spend.
Pull out your measuring tape or yardstick and roughly measure the area you'd like for your bar. Don't forget space for you or whoever will be tending bar to move around and bend while making drinks. If you're including refrigerators or other large fixtures, make sure to plan in space for those, usually under the bar top and in the back area of the bar. Our Standard Bar Dimensions & Specifications page has lots of information to help you with this portion of your process.
Think about Design
Now comes some of the fun. After picking your spot and getting some rough idea of how big your patio bar will be, you can begin thinking about the design details that will make your patio bar uniquely yours.
Start out by looking through magazines or on the internet – Pinterest and Houzz are great resources – and compiling a list of things you like and dislike about other bars you see. If you have a specific vision for your bar's theme, think about ways to bring that theme into your design.
To avoid going overboard with theming (because you can), we suggest picking one or two main focal pieces or points that you can build everything else around. These focal points should be things that are either big and bold – think a specific color or a great sculpture – or that have some real significance and meaning for you. Make everything else you bring to your patio bar – colors, fixtures, artwork – less overpowering than your focal points.
And remember – When in doubt, less is always more in design.
>>Want an indoor bar? Check out our Bar Building 101 blog posts!>>
Materials Matter
Though using high-quality, appropriate materials is always key to a long-lasting finished product, it's even more important when you're dealing with weather.

For outdoor bars, our team recommends white oak or mahogany. These species of woods are less likely to rot, which means they'll withstand rain, snow, and wind for longer than others.

Choosing the right materials also extends to everything else on your bar, especially metals. Look for metal fixtures for your stools and accents that will resist rust and is meant for outdoor use.

>>See some of the gorgeous finished bars made by past clients!>>

Here at Hardwoods Incorporated, we pride ourselves on making exceptional hardwood bar rails, bar tops, and bar parts for your patio or home bars. We create all our parts in-house with only the best quality of woods we can find.
Not only do we make sure we provide you with the highest-quality parts for your bars, we offer a full library of bar-building resources to make your bar-building process easier. And if those don't help, we're always happy to help over the phone. Contact us today!

Tags: home bar tips, How To Build A Home Bar, outdoor hosting, patio bars, summer barbecues Posted in: Bar Building