Standard Bar Dimensions & Specifications
For Building Commercial and DIY Home Bars
*Dimensions stated and shown are guidelines and come from over 40 years of experience in actually building both commercial and home bars, back bars, pub rails and related interior construction.
Standard Bar Dimensions
When determining the length of a bar it is safe to figure about 2' wide per person or bar stool for commercial applications and a little less for a cozy home bar. This does not include bars with a bar rail radius corner as small curved bar corners may not be large enough to seat a person comfortably. When designing your bar remember to try to limit runs that require more than an 8' long piece of bar rail including miter cuts as this is the longest piece of rail that can be shipped by standard shipping methods. Longer lengths can also be shipped, however, at a greater cost by LTL freight.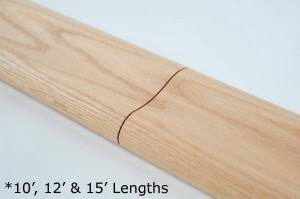 At Hardwoods Incorporated we offer a third option: we ship 10', 12' & 15' bar rail lengths cut in half with a bisquet joint so that the rail can be installed on your bar lining the grain back up again and causing the seam to disappear and these bar rails can be shipped by UPS/FedEx.
The standard bar height from the floor to the top of a bar top (excluding the bar rail) should be 42". This allows for a standard 30" high bar stool to seat you comfortably at your bar. The 12" difference between the seat height and bar top is common in most applications including breakfast bars where the top is 36" high using a 24" bar stool and table or desk height which is 30" using a 18" chair height. The bar top overhang should be a minimum of 8-1/2" and could be as much as 10" so your knees do not hit the bar front. For our extra tall customers the 10" overhang maybe necessary. When making an extra-wide bar top overhang, corbels or brackets should be considered under the bar top to lend support and to keep the top level and straight.
Standard Bar Tops Measurements

The main bar top surface should be at least 16" wide and can be as wide as 20" or more depending on the space available but enough space should be provided for a dinner plate, pan of pizza and some drinks.
Many of our clients who are looking for a more natural or rustic look opt for a live edge hardwood slab bar top without a bar rail. In this case however the same measurement guidelines for overhang and width should also be applied.
Bar Rails
The bar rails we recommend for both home bars and commercial bars is our BR475 bar rail molding and BR550 Chicago bar rail. Both styles of bar rail are very comfortable to sit at while enjoying your favorite food and beverage, and are perfect stand up bar rails to just lean your arm on in conversation.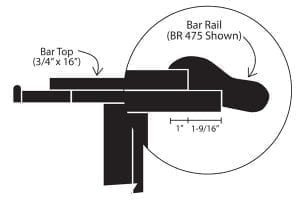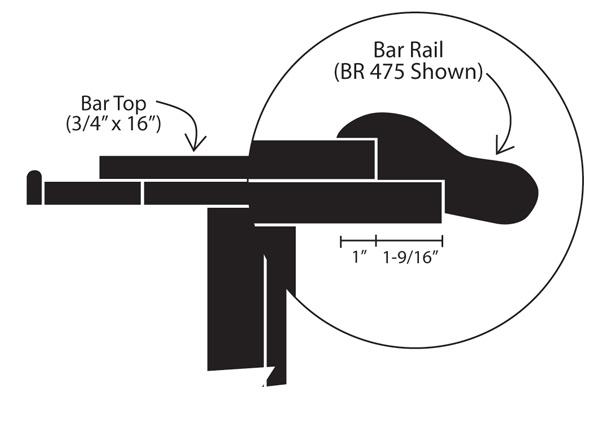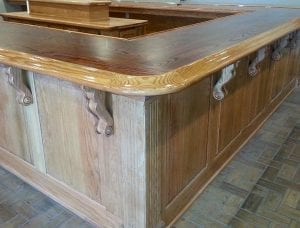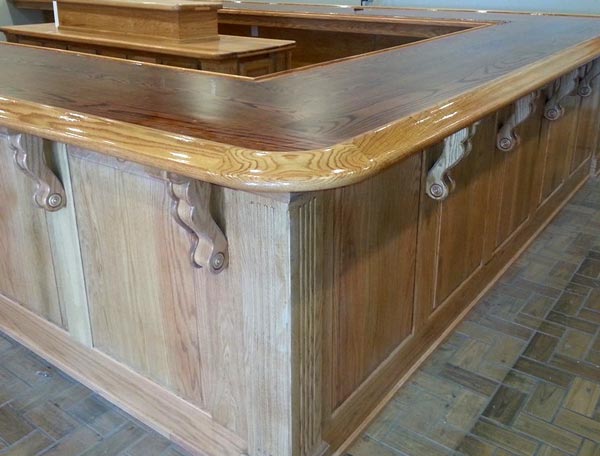 When using any of our bar rail moldings consider adding a matching radius corner which we have in stock for that finished custom look as well as keeping the bar corners soft. We also offer our bar rail in custom wood species such as quartersawn red and white oak, sapele, wenge, bubinga, curly maple and more.
We also offer the original Chicago bar rail, BR475-S bar rail molding and matching BR475-S radius corners, which has a nice front apron that will give your bar that nostalgic look.
For small home bars, drink rails along the wall, or for back bar trim we offer our BR158 bar rail and matching BR158 radius corners which are perfect where space may be limited.
On the bartenders' side of the bar we suggest a glass rail and drip edge which is the 4" mixing tray for preparing drinks prior to serving. It is also used when wiping down the bar to collect any liquids, debris or crumbs left on the bar top.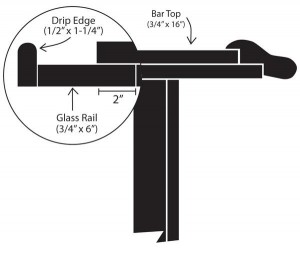 Bar Front
Finally we reach the bar front. The front of your bar can have a great impact on the overall impression of your finished bar. We offer fluted bar front columns and matching fluted corners to add a polished finished look. These fluted bar fronts ship unassembled; assembled they are 40.5″ tall by 4″ wide. Our fluted bar fronts are easy to assemble and install and are easily customizable to fit the size of home bars or commercial bars alike.