Bar Top Kit With Radius Corner Installation
Our radius corners make great complements to our bar top kits, giving you an overall polished, finished look for your home or commercial bar.
Installing the radius corner with the bar top kit may look complicated, but it's actually pretty easy if you follow our step-by-step directions!
When installing one of our bar top kits together with a bar rail radius corner it is best to mark and cut the plywood sub top radius first using the templates provided. The prescribed measurements are 7-9/16″ for the 6″ and 13-9/16″ for the 12″ radius.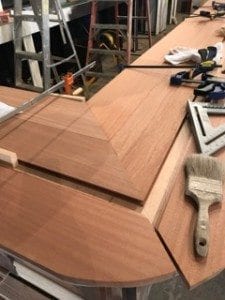 Next, after studying the bar top kit installation instructions provided, miter or herring bone cut your bar top planks as required to make the corner and secure temporarily.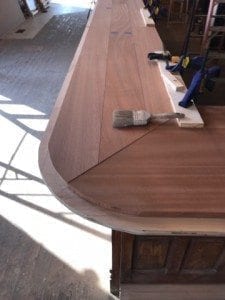 Then, mark the two front 6″ wide bar top planks for either 6″ or 12″ radius, cut and install temporarily to check fitment of the radius corner.
If no further adjustments are needed, proceed to final installation of the bar top kits and bar rail moldings as outlined in our instructions.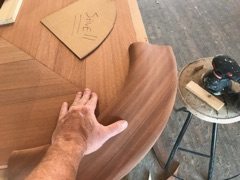 Building your own bar can give you the professional, beautiful results you want with high-quality hardwood bar parts from Hardwoods Incorporated.

We carefully select the wood we use for our bar rails, bar tops, and other bar parts, milling them all in our shop in the United States.

Need help building your bar? Email us at info@hardwoodsincorporated.com, or call us at (301) 665-9505 or (240) 285-0565.

Thank you for choosing Hardwoods Incorporated.

Posted in: Uncategorized