Custom bar top kits and bar rail moldings for home and commercial bars.
We recently had the privileged to worked with a client in Bushnell Illinois building a large commercial bar in an 1870's building being renovated into a bar and restaurant. The project required custom bar top kits, Curved and straight Chicago bar rail moldings and bar top trim all made from quartersawn sapele mahogany. Working closely with the client we carefully selected the sapele mahogany lumber for color and grain and proceeded to machine all of the parts required in our western Maryland millwork facility. Once completed the entire project was carefully inspected, packaged and shipped by freight to our client for final fitment, assembly and finishing. The customer received the bar building materials, he substantially completed the job and then sent us progress pictures with a review to share with other potential customers.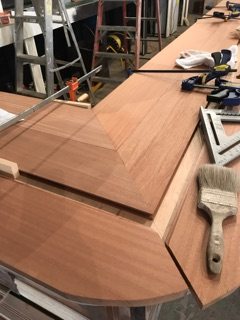 Custom tongue and grooved bar top kits.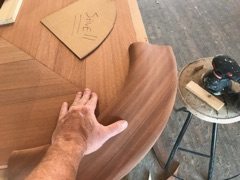 Curved Chicago bar rail molding.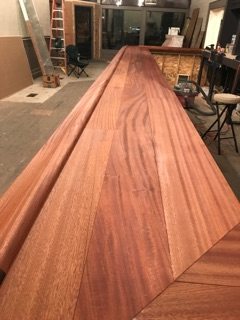 Fully assembled bar top kits and bar rail moldings.
Completed bar top and back bar prior to finishing.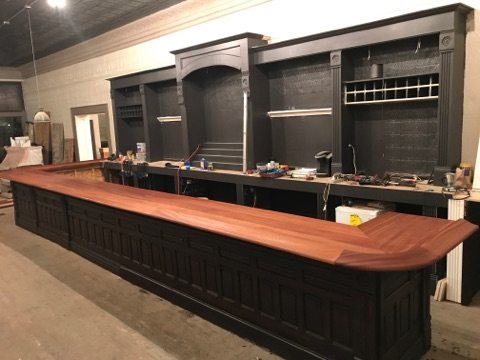 We've received many testimonials and pictures from clients over the years sharing their experiences with our products and services and would like to extend a "Thank you" to Mark for his review below.
My wife and I are renovating an 1870's masonry building with the goal of turning it into a bar and a restaurant. Besides the challenge of the project itself, we're doing most of the work ourselves and are not professionals. My first real experience with carpentry has just been in the last 18 months working on this project. Before doing this bar top, all I had worked with was pine – wood that I could 'putty and paint'.  When I contacted Paul and Hardwoods Incorporated, it wasn't really possible for me to hide that I didn't know much about finished wood, or even carpentry.  Paul quickly, professionally and gracefully guided me thru the design and material selection. I placed the order and it arrived on time, and well packaged so that nothing could get damaged.  I downloaded the relevant install instructions from their website, and watched their videos. I couldn't be more pleased with the service, quality, and value I received. As I told Paul on the phone after I finished the install, my compliments to him and his company would be better appreciated if he knew how picky I am.   I give these guys my highest recommendation and have let them know they are free to share my contact information with potential customers looking for a reference.
Mark R.
Bushnell, Illinois