7 Ways to Use Your Bar If You're Not a Drinker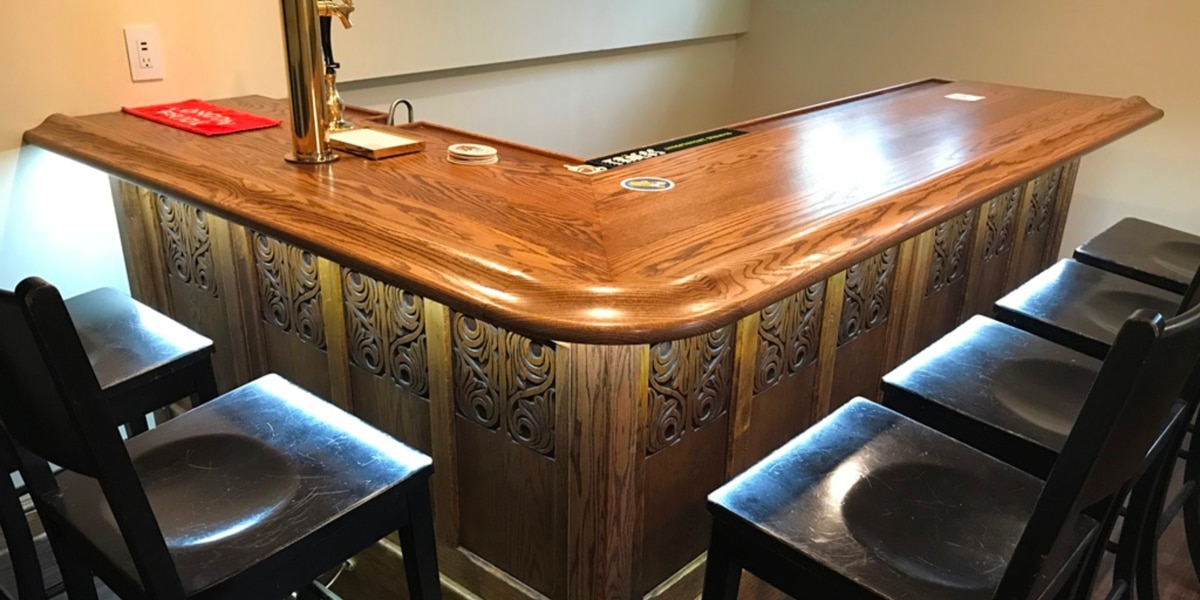 When you think of a home bar, your mind automatically imagines a section of the house lined with various liquors and beers. While that's what many people use that space for, the home bar can also be so much more.
Fortunately, there are countless ways to utilize a home bar that don't include pouring a single drop of alcohol. Here are some of our favorite ways for non-drinkers to use a home bar:
Unique TV Setup
With a countertop for food and drinks and an entire back wall to stare at, home bars can also make for a perfect TV-watching spot. Installing a nice, big flatscreen on the wall of your bar allows you and your company to watch anything – from big games to blockbuster movies – from the casual comfort of your bar stools.
You don't have to stop there! Use the space around your TV to store DVDs or Blurays, or even plug in your video game consoles along the back wall to create a larger-than-life gaming experience! Snacks and drinks can also be stashed away in cabinets or a fridge, guaranteeing a distraction-free night of entertainment.
Expansive Display Case
If you use your imagination, the back wall of a home bar can be used in countless ways! For example, let's start with the obvious: it's a great place to store your glasses and drinkware. If you have handsome glasses, crystal, or china, you can decorate the area around the bar to make it look more classy and modern.
Of course, drinkware is just the tip of the iceberg in terms of what you can display on the back of a home bar wall! Do you have any particularly special sports memorabilia you'd like to display? Or maybe a few choice movie posters? Maybe you have an expansive collection of some sort, like bobbleheads or shot glasses? Proudly show off anything and everything you want!
Electric Fireplace Insert Display
Not every home is blessed with a built-in fireplace, but an electric fireplace insert can still create a very cozy atmosphere! Installation isn't always cheap, but the end result can instantly transform an empty home bar into a bright, warm, relaxing leisure space.
If you want to really capture a rustic ambiance, wood paneling along the walls and some warm flannel blankets will definitely help set the scene. Use the extra shelf space to house a coffee maker or some hot cocoa mix, store a few warm slippers behind the bar, and settle in safe from the cold.
Personal Aquarium
A lot of home bars have a nautical theme to them, which can make for a really atmospheric and fun place to entertain guests. Deck your bar out in anything from traditional rustic sailing designs to loud and expressive luau decorations.
With all of that free back wall space, you could even go the extra mile and install a large fish tank for your guests to gather around and admire. Large aquariums, of course, are a commitment, but they're also unparalleled centerpieces and conversation starters that can really compliment a seafaring-themed home!
At-Home Ice Cream Parlor
Even if you stay away from alcohol, you can still use your bar as a bar. Instead of serving up martinis and Bloody Marys, though, consider using that space to serve up something arguably just as delicious!
Use the back wall and shelving space to store your spoons and various-sized dishes, and use any extra space to keep a variety of cones, toppings, candies, and syrups. Of course, you're going to want a decent-sized freezer to house all of the different flavors for your family and guests.
If mixing drinks can be considered an artform, shouldn't the same be said for mixing different ice cream sundaes?
Wrap-Around Dinner Table
Think for a moment why people hang out by bars? Why do people have them in their homes? Why do some bars have regulars? What is it about that kind of space that draws people in so often?
Honestly, it's the sense of community. People like to sit down, have a drink (alcoholic or not), and talk to each other. That kind of camaraderie is universal and gathering around a bar counter in your own home is perfect evidence of that.
If you really think about it, home bars are an excellent place to sit down and have a delicious dinner with your family. Many home bars wrap around, allowing everyone to be able to see one another while talking and eating. Use the back wall space to put in a small TV to watch, or invest in a jukebox and allow each family member to choose a tune. Either way, a home bar provides a unique sense of togetherness that every member of your family will appreciate.
Classy Coffee Bar
Just because you don't drink alcohol doesn't mean you can't use your bar to serve up some tasty beverages. If you're a coffee connoisseur, having your own setup at home can curb those cravings for some expensive takeout coffee.
Keep your French press, pour-over brewer, or espresso machine always at hand, along with your selection of syrups and mugs. If you enjoy lattes or cappuccinos, install a mini fridge to hold your milk of choice for easy frothing. An at-home coffee bar makes a great addition to those holiday mornings gathered around with family!
Everything You Need to Build Your Own Unique Home Bar

Feeling inspired yet? Itching for a fun place to entertain your family, friends, and yourself? At Hardwoods Inc., we craft exceptional hardwood bar rails, bar top kits, and other bar parts to turn your extra space into the hangout of your dreams. Check out our online store!

Posted in: Home Bar Tips