5 Cocktails to Master for At-Home Bartending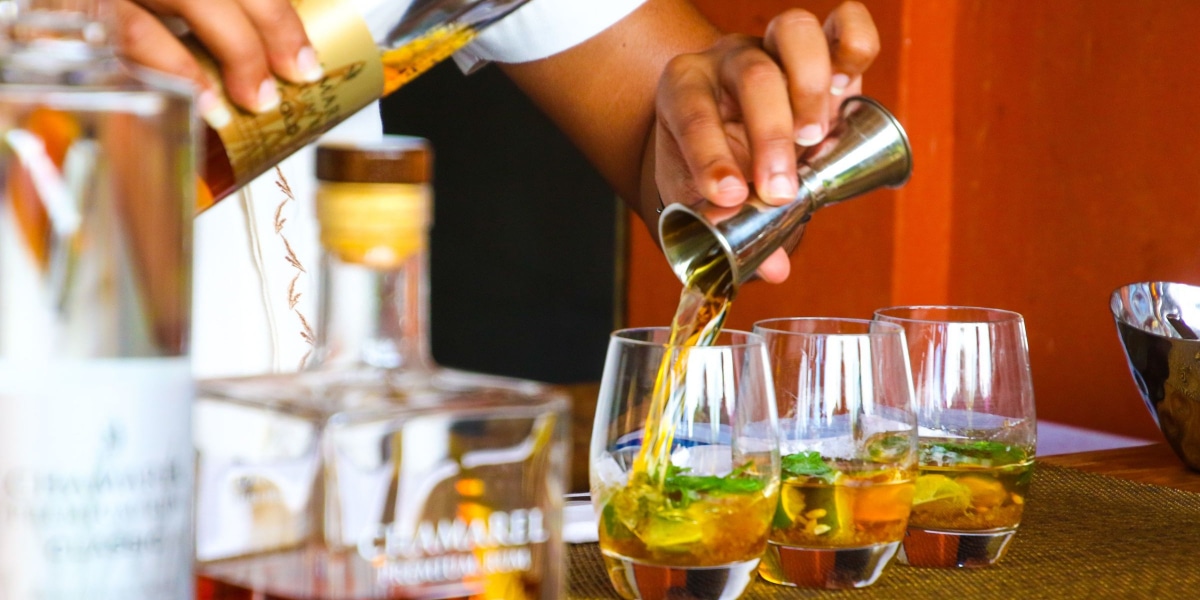 Now that you've mastered 7 basic bartending skills and can impress your friends, you need to build a mental library of basic cocktails you can whip up at a moment's notice!
Sure, being able to mix up a complicated drink is sure to delight your guests, and plain beer has its place, but there's nothing quite like mastering a tried-and-true crowd-pleasing cocktail to level up your parties. Get good at making these 5 cocktails, and your friends are sure to want to stop by anytime for a drink:
Martini
What good is a party without someone making a James Bond joke? And if you can get a martini down pat, you're sure to hear "Shaken, not stirred" at least once.
The beauty of the simple martini is you can change it up to suit different tastes. Serve it on the rocks for the guest who likes it cold, or add a splash of olive juice if someone wants a dirty martini.
Martini
2 oz vodka or gin
Dash of dry vermouth
Stir or shake all ingredients together. Garnish with olives.
Manhattan
As sophisticated as its namesake, this cocktail is much easier than you'd think to make.
Manhattan
2 oz bourbon or whiskey
1 oz sweet vermouth
2 dashes bitters
Build ingredients over ice, then strain into a glass and garnish with a cherry.
Old Fashioned
A true American classic, using rye whiskey keeps this cocktail close to its roots.
Old Fashioned
1 slice orange
Cherry (no stem or pit)
1 tsp sugar
1 ½ oz whiskey or bourbon
2 dashes bitters
Muddle the cherry, orange, sugar, and bitters until they have become mush. Add whiskey and ice, stir, and serve.
Margarita
Perfect for all those hot summer days and nights, margaritas are classic party cocktails that your guests will love.
Margarita
1 oz tequila
1 oz cointreau or triple sec
1 oz sour mix
Build ingredients over ice and shake. Pour over ice in a glass with a salted rim, garnish with lime.
Cosmopolitan
This sweet-and-sour drink is sure to make you and your guests feel sophisticated while sipping.
Cosmopolitan
4 oz vodka
1 ½ oz fresh lemon juice
1 ½ oz cointreau
3 oz cranberry juice
Build all ingredients in a shaker over ice. Shake, then serve in a chilled glass.
Everything You Need to Build a Bar

What good are your new cocktail-making skills without an awesome home bar to practice them? At Hardwoods Inc., we craft exceptional hardwood bar rails, bar top kits, and other bar parts to turn your extra space into the hangout of your dreams. Check out our online store!

Tags: bartending basics, bartending skills, home bar, home bar tips, hosting tips, party tips Posted in: Home Bar Tips