3 Things to Consider When Planning Your Basement Bar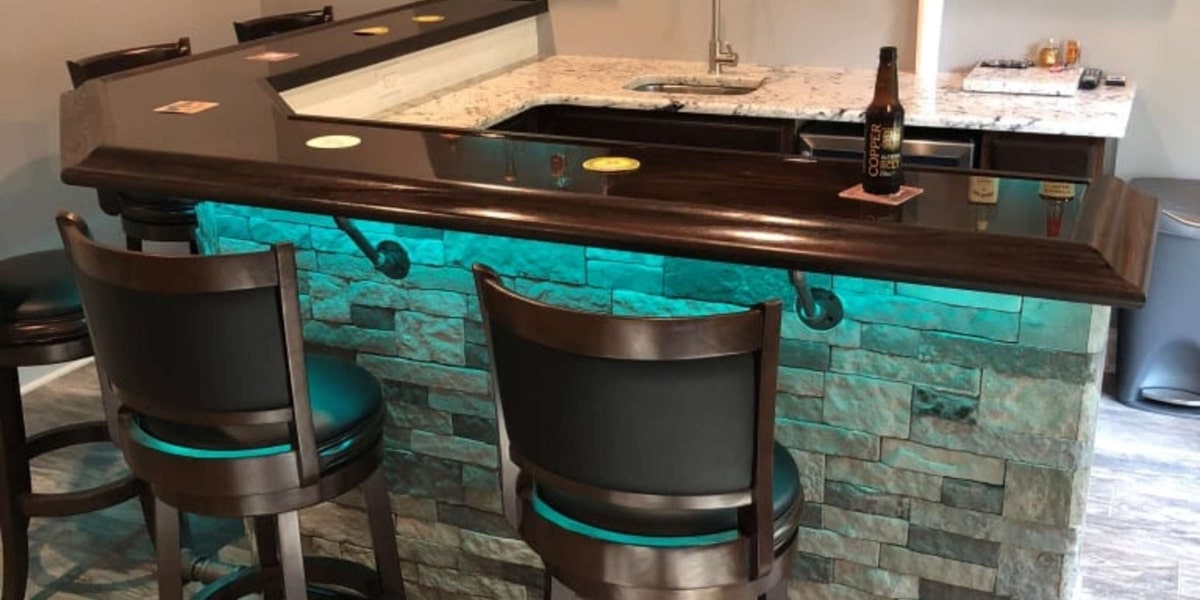 You're ready to get started building that home bar you've always dreamed of, and have decided your basement is the perfect location. Basement bars are great – We've seen tons of amazing basement bar spaces!
Before you get started, you have lots of planning to do to make your home bar the talk of the neighborhood. Here are 3 major things to consider when planning your basement bar:
Location Matters
Chances are you've already got that ideal spot in your basement picked out. But will that spot be an ideal location for everything you need to build your bar? Here are a few things you need to keep in mind when finalizing your basement bar's location:
Level floor

: Basements are notorious for having uneven floors. You wouldn't want to have to build a sturdy, solid bar over warped or bumpy flooring, which can cause extra construction complications or cause your finished product to not look as polished as you'd like.

Proximity to utilities

: With your bar, you're likely going to want electricity to run blenders or other small appliances, or plumbing for a sink, or maybe both. Running electricity across the room isn't nearly as expensive a project as relocating plumbing, so either reconsider your bar's location or the amenities you want to include.

Space

: Depending on the design and goals for your bar, you could need a fair amount of space. If you have grand designs of hosting your friends for game day, but are short on space, you may need to re-think your design or the location.
Keep It Dry
A common problem in basement construction – bars or otherwise – is running into moisture issues. Whether you have just a little dampness, some mold and musty smells, or you get full-on flooding when it rains, water and basement bars don't mix.
Before moving forward with construction on your bar, get any underlying moisture or flooding issues dealt with, at the very least in the area where you'll build your bar. It would be a shame to spend all that time and money on a gorgeous hardwood bar, only to have it develop moisture damage or rot because of the conditions in the basement. If necessary, install a basement de-watering system to help keep things dry.
Make It Cozy
Sometimes, basements can be cold, sparse, and uncomfortable. Think of how unpleasant it is to stand on that concrete floor for a long time!
One of the keys to creating a welcoming environment for your guests, one where they want to stay and hang out for a while, is adding some elements of comfort to the area surrounding your bar. Consider adding carpeting or, if that's not possible, some large area rugs to make the floor feel less hard. Buy padded stools and comfy couches or armchairs to encourage your guests to lounge and enjoy a game or just some great conversation. If you've got space, add in a pool table, dart boards, or other fun games. The more welcoming your home bar, the less likely your friends are to go somewhere else to hang out!
Exceptional Hardwood Bar Building Supplies

At Hardwoods Inc., we have made it our mission to help our customers get the basement bars of their dreams. That's why, in addition to providing high-quality hardwood bar rails, bar tops, and other bar building supplies, we provide a collection of helpful bar-building resources. And, if you can't find the answer to your question there, just reach out and one of our bar-building experts will help!

Posted in: Bar Building, Bar Parts, Home Bar Tips