Introducing a New Bar Rail Profile: The BR-350!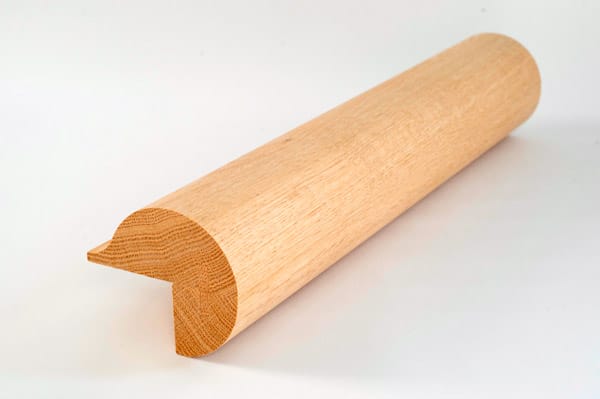 In our quest to offer the products that you, our loyal customers, want to see, we've developed a brand new bar rail profile!
The BR-350 bar rail features a first for Hardwoods Incorporated – a fully curved profile.
Give your guests the ultimate in armrest comfort without sacrificing your custom bar's sleek style. The curved profile appears to rise up out of your bar top.
The BR-350 comes with a notched section for easy attachment to bar tops ranging from ¾" to 3" in thickness. Just use glue and screws underneath the bar top and you're in business!
This gorgeous vintage bar rail profile originated in the Hardwoods Incorporated family mill in 1930s Pennsylvania, crafted for a variety of bar and speakeasy clients.
In recent years, we've fielded a number of commercial requests for this unique bar rail profile and, as a result, felt it was time to bring it back for wider use.
Choose from a variety of lengths, including 4', 6', 7', 8', and 9' to suit your individual bar-building project.
Each BR-350 curved bar rail is crafted from hand-selected red oak and milled here in the United States. As with all our bar rails and other bar parts, each BR-350 is carefully packed and shipped to your home to prevent damage. Longer lengths, as well as other domestic and exotic hardwoods, available upon request.
Add a professional look and feel to your home or commercial bar with the BR-350 from Hardwoods Incorporated!
Premium Hardwood Bar Rails & More

Whether you're looking for a rounded bar rail profile or our more traditional Chicago bar rail molding, Hardwoods Incorporated has what you need to get the bar of your dreams. 

Have questions about building your bar? Check out our Bar Building Resources section, email us at info@hardwoodsincorporated.com, or call us at (301) 665-9505 or (240) 285-0565.

Thank you for choosing Hardwoods Incorporated.

Posted in: Bar Rails