Custom Made Bar Tops by Hardwoods Inc
At Hardwoods Incorporated, we make custom bar tops and bar top kits for both home and commercial bars. Whether you are looking for a traditional wood bar top with bar rail molding or a natural edge slab bar top, we can help – all we need is a rough sketch with dimensions and your input.
We provide an itemized list of materials, labor, shipping costs, and time frame for your project so you can decide to either DIY the bar top or have us make it for you. Either way, we make the process simple by providing all you need to make your bar top from our one-stop bar building shop.
Pictured is a solid Lacewood bar top featuring our BR475 Bar rail molding and matching radius corners, custom made for a client in Alexandria Virginia.
Pictured here is a solid red oak bar top trimmed with our BR475-S Chicago bar rail molding and matching radius corner custom fabricated for a customer in New York City.
Pictured is a solid Sapele mahogany slab trimmed with our maple BR475 Bar rail molding to complete this custom home bar top for our client in Chicago Illinois.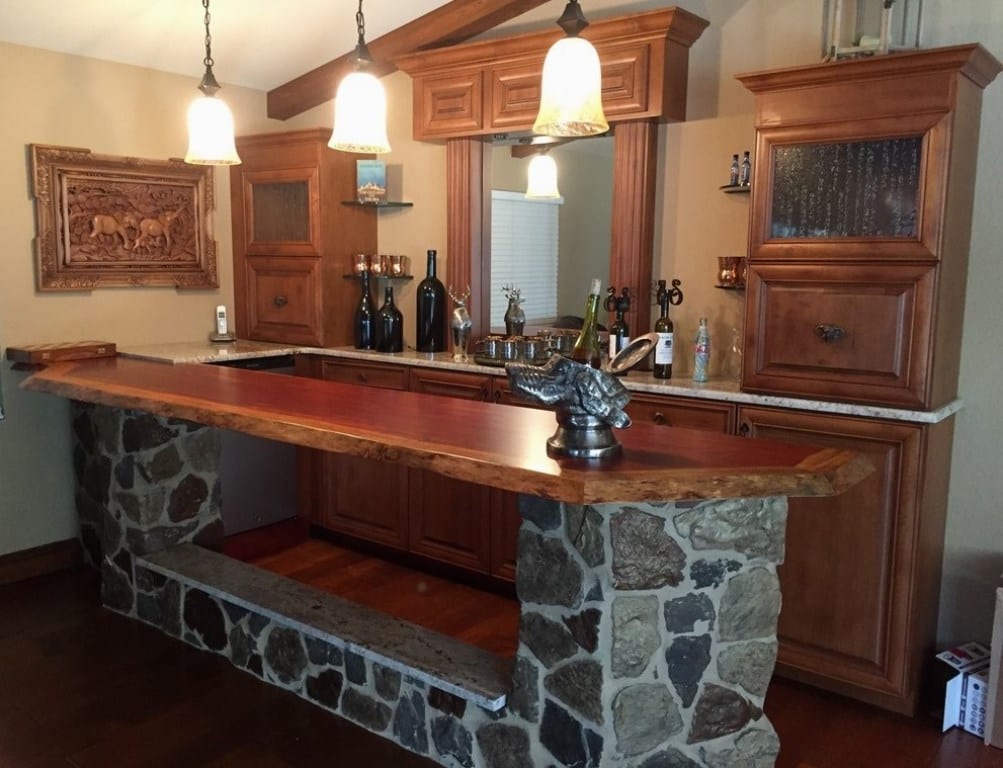 Pictured above is natural edge bar top made from a 3" thick slab of imported African Bubinga for a client in Miami, Florida.

Building the bar yourself? This is where we come in by providing everything needed to make your bar top and finish your bar front.

Pictured below are tongue and grooved main bar top kits that ship knock down and ready to assemble on your plywood sub top. Next we have our Chicago bar rail moldings and matching radius corners, carefully selected to compliment your bar top. All of our bar top parts come with full installation instructions, templates and finishing suggestions.

When following our bar building resource guidelines, all you'll need to do is cut your parts to length, sand, finish and enjoy your new bar top.

Looking for a convenient way to finish off the front of your bar? Why not consider using our bar front fluted columns and bar front trim kits? The team at Hardwoods Incorporated has over 40 years' experience in actually building home and commercial bars. We've worked through many complicated installations and obstacles. When you are ready to get started, visit our website, call us, or email us your questions or rough sketch and we will help you select the right parts to build your bar or provide a quote to make it for you.

Thank you for considering Hardwoods Incorporated.

The Hardwoods Incorporated team

Posted in: Bar Building, Bar Parts