Get a Beautiful Custom Look for Your Bar Top with Hardwoods Incorporated's Bar Rail Radius Corners
Do you want the look of rounded corners on your home bar, but think they'll be more difficult to install than a square corner? With our bar rail radius corners, it doesn't have to be!
Not only do curved corners provide a clean, polished look to your bar top, but they are more comfortable for guests and may be less expensive than purchasing two lengths of wood and creating a square corner.
Our bar rail radius corners are easy-to-install and don't require the use of extra pieces, such as shims or scrap wood to place between layers. They're made to install on two layers of ¾" thick material; lumber for the main bar top and plywood for the subtop, which are available in nearly any home improvement store.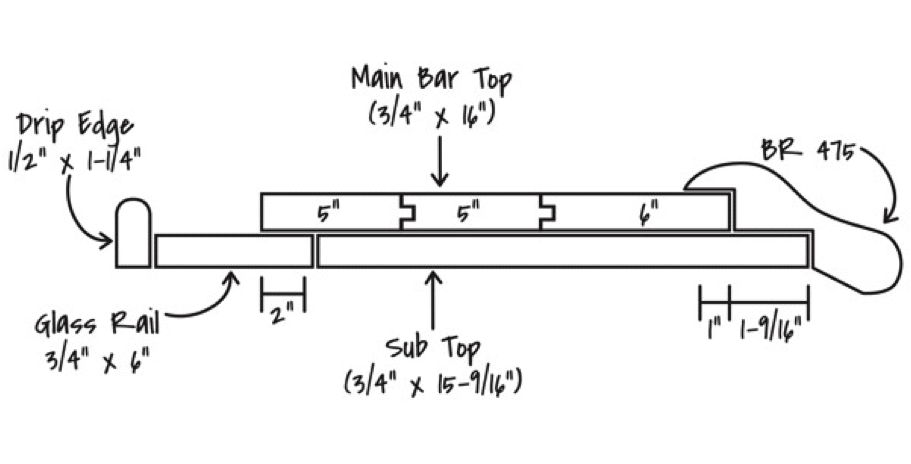 In every 6" and 12" radius corner order, we include a paper template for you to cut out and trace directly onto your bar top and sub top. This takes all the guesswork out of marking off your corner; just cut out the template, measure, trace using the template, and you're ready to cut! Step-by-step instructions also are included with every radius corner order so you can have them handy when building your bar.
Once you have your rounded corners marked and cut, piecing together your bar top, sub top, bar rail, and radius corner is a snap. See how easy installing our BR 475, BR 475-S, BR 550, and BR 158 bar rail radius corners can be in the video below:
Superior Hardwood Bar Tops and Bar Parts
Whether you're building your first bar or your 500th, Hardwoods Incorporated has the materials you need to create a beautiful, custom bar. Our affordable bar parts come in a variety of wood species to meet any look, or contact us for a custom order. We offer a full library of bar-building resources to make creating the perfect bar an enjoyable project you feel confident tackling.