Bar Rail Molding 101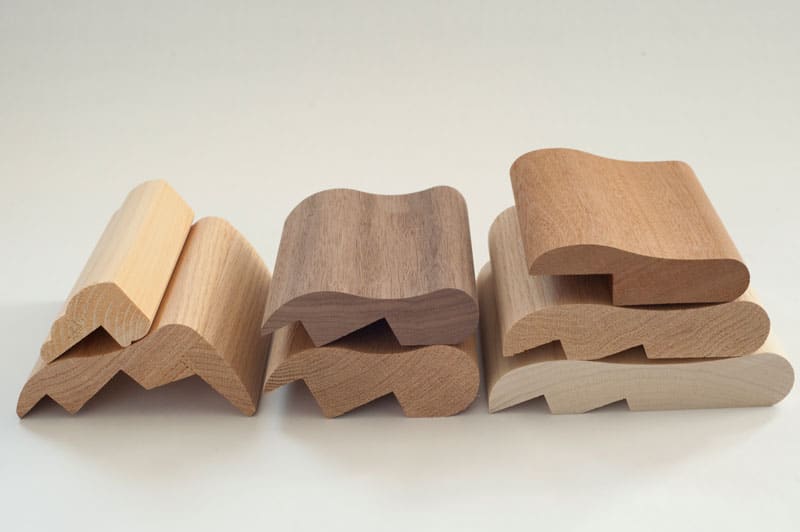 At Hardwoods Incorporated we've been making our bar rail moldings and matching radius bar rail corners to the same design specifications for over 40 years. Our double notch bar rail system accepts (2) layers of ¾" bar top material sandwiched one on top of another for a solid 1-1/2" thick bar top providing stability and strength. (As shown) All of our Chicago style bar rail moldings BR475, BR550, BR650, BR475-3CM and BR475-S lay at a perfect comfortable angle displaying their 3 dimensional qualities ideal for use on home bars, commercial bars and pub rails.
When choosing a bar rail molding it is important to consider the bar top overhang of 8-1/2" to 10" which is required to accommodate bar stools and people of all sizes to sit comfortably at the bar. Bar rails with a single notch are designed to be installed on a layer of ¾"plywood or lumber making for a very thin bar top especially at the 10" overhang. Bar rail moldings that require "air space" or "filler parts" between layers of bar top material for installation entail a lot of extra work and material. Bar rail moldings that are pre-finished can be problematic as well especially when attempting miter cuts and the unavoidable cleanup of excess glue and sanding of the miter joints.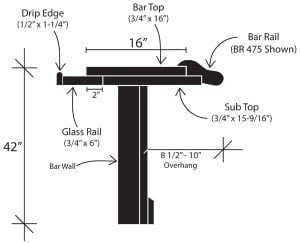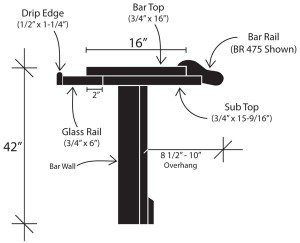 When using a solid slab of any thickness for your bar top our bar rail moldings are easily adaptable by either routering a notch in the slab or installing a mini sub top as shown below.

When Installing and finishing our bar rail moldings be sure to visit our bar building resources page where you will find our bar rail installation video, our step by step bar rail finishing guide and other helpful hints on building your home or commercial bar yourself.

Thank you for considering Hardwoods Incorporated.

Save

Posted in: Bar Rail Installation, Bar Rails, Chicago Bar Rails