Brazilian Cherry Chicago Bar Rail Molding.
Hi Paul,
I have been meaning to thank you for helping me through every step of the way to an amazing final product, and more importantly an amazing and satisfying experience with our basement renovation highlighted by the new Brazilian Cherry wood Bar Rail.
Every step in the entire process under promised and thoroughly over delivered! What most impressed me was your personal patience in handling all, and I mean all, my questions especially about fashioning substitutes for end caps. I am forwarding separately close up pix of the ends as fashioned by my creative finish carpenter.
We are more than proud of this bar and I am sure we would not have gotten anything close to this result without your beginning to end help, advice and guidance. The beauty of the wood didn't hurt either!
Please take a FIVE STARS in the largest font possible for both the bar – rail and radius corners……and the customer service and experience!
I'd be offended if you didn't share. You are a quality owner! Thanks again.
Kevin J. Cullen Esq.
Milford, Connecticut
08/24/19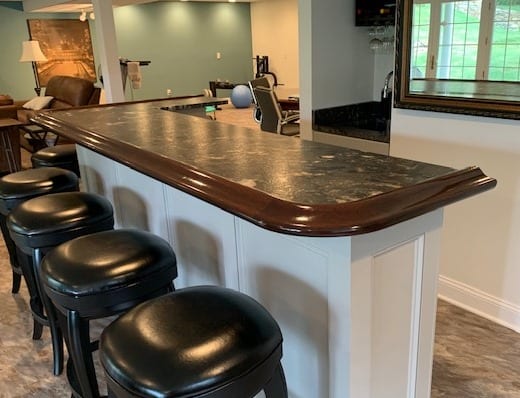 Posted in: Uncategorized