Bar Building FAQs
Click on the arrows below to see the answer. If you have any questions not answered here, contact us!
1. Do you offer international shipping?
Yes, Please complete our international quote request form and one of our customer service representatives will be in touch shortly to confirm your product cost, your shipping cost and terms of sale.
2. Is a 135 and 45 degree corner the same thing?
Yes. This can be a little confusing as the 135° is measured on the outside while the 45° is measured on the inside; in effect one in the same when using our 135° degree Bar Rail Radius Corners.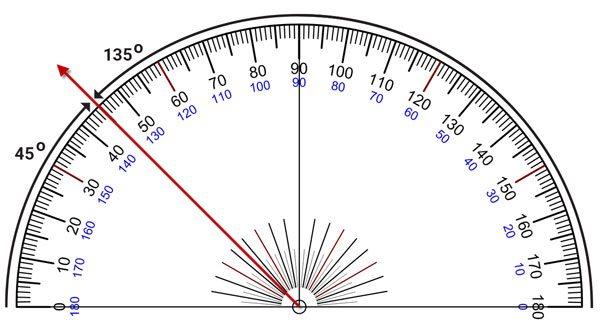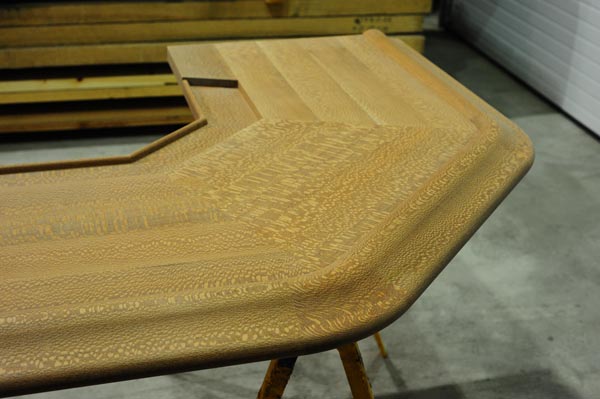 Save
3. Where would a 135 degree corner be used?
Use the 135 degree corner to create a cropped corner on a bar top or bar front as shown.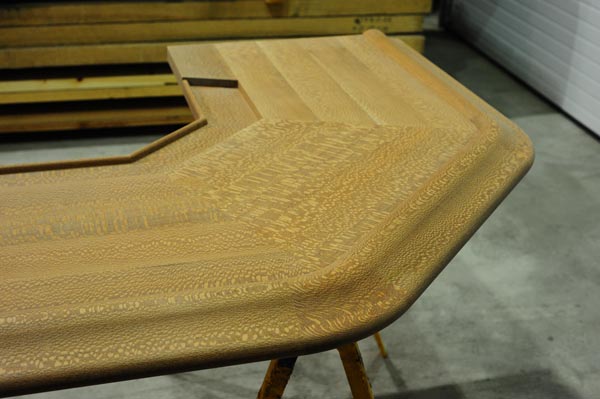 Save
4. What do I do if my shipment arrives damaged?
5. How do you ship?
We ship by UPS ground for items up to 8′ long. Orders over 8′ are shipped by LTL truck. Either way please allow 2 to 5 business days in transit. Larger orders and remote areas may take longer.
6. How soon will I receive my order?
Almost all of our bar building products are in stock and ship within 5 business days from receipt of your order.* We ship by UPS ground. Please allow 2 to 5 days in transit depending on your location.
*For bar top kits please allow up to 10 business days for shipment of this product.
7. Do you sell end caps for your bar rails?
No. Please see the attached picture showing our recommendation for ending the bar rail molding. We believe that end caps are bulky, unsightly and only calls more attention to what looks like a mistake.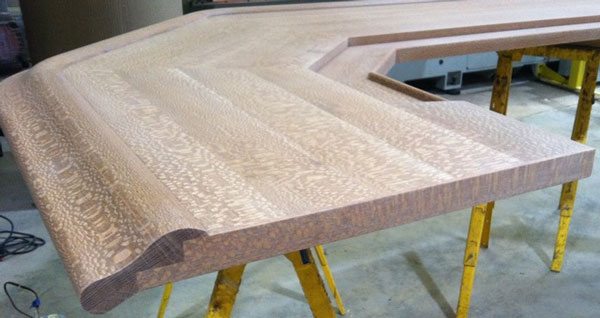 Pictured below is another option for ending our Chicago Bar Rail Molding by mitering the molding back to itself.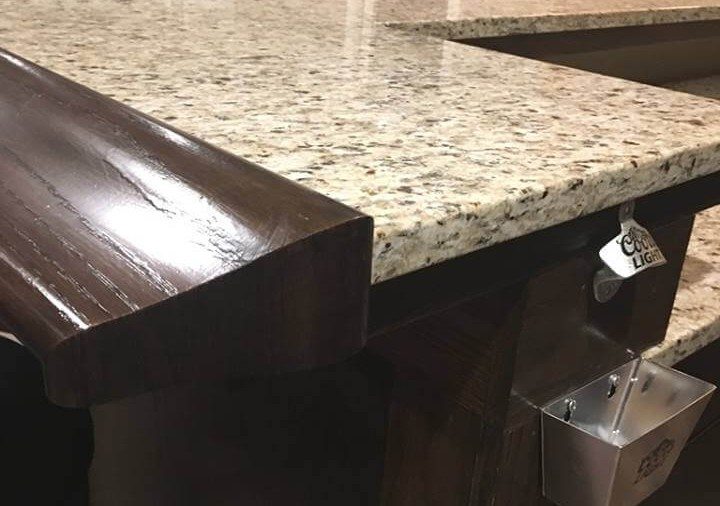 8. Is it necessary to have a glass rail and drip edge on the bar tenders' side of the bar?
No. Often times on home & commercial bars the glass rail & drip edge is not included. See cross section diagram on how to do this.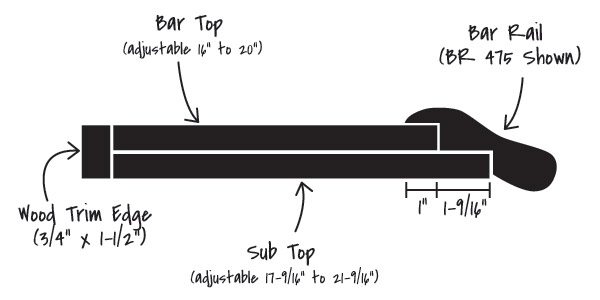 9. How much extra bar rail should I allow for miters?
10. How noticeable are the seams on the longer length bar rails that are cut in half with the bisquet joints?
Good question. Since the bar rail is cut from 1 long piece the grain matches up perfectly and the seam fades into the back ground this is a great way to purchase long lengths & save money on the shipping.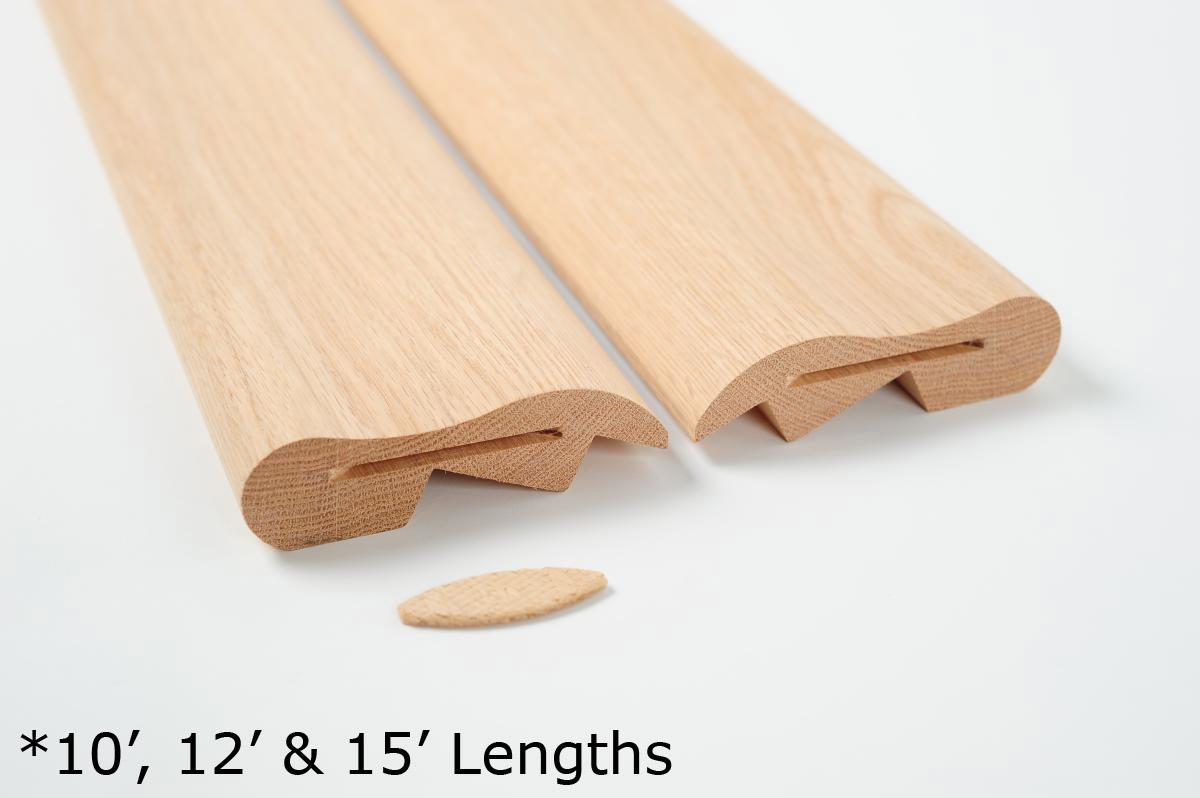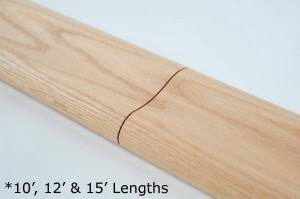 11. Can bar rail moldings longer than 8' be shipped?
Yes, we have 2 options here:
Option 1: We ship 10′, 12′ and 15′ bar rail lengths ordered online cut in half, with a biscuit joint on each piece. This allows the grain to be matched up seamlessly. The bar rail is ready for assembly. Now affordable shipping via UPS. View prices or order: BR 475 or BR 550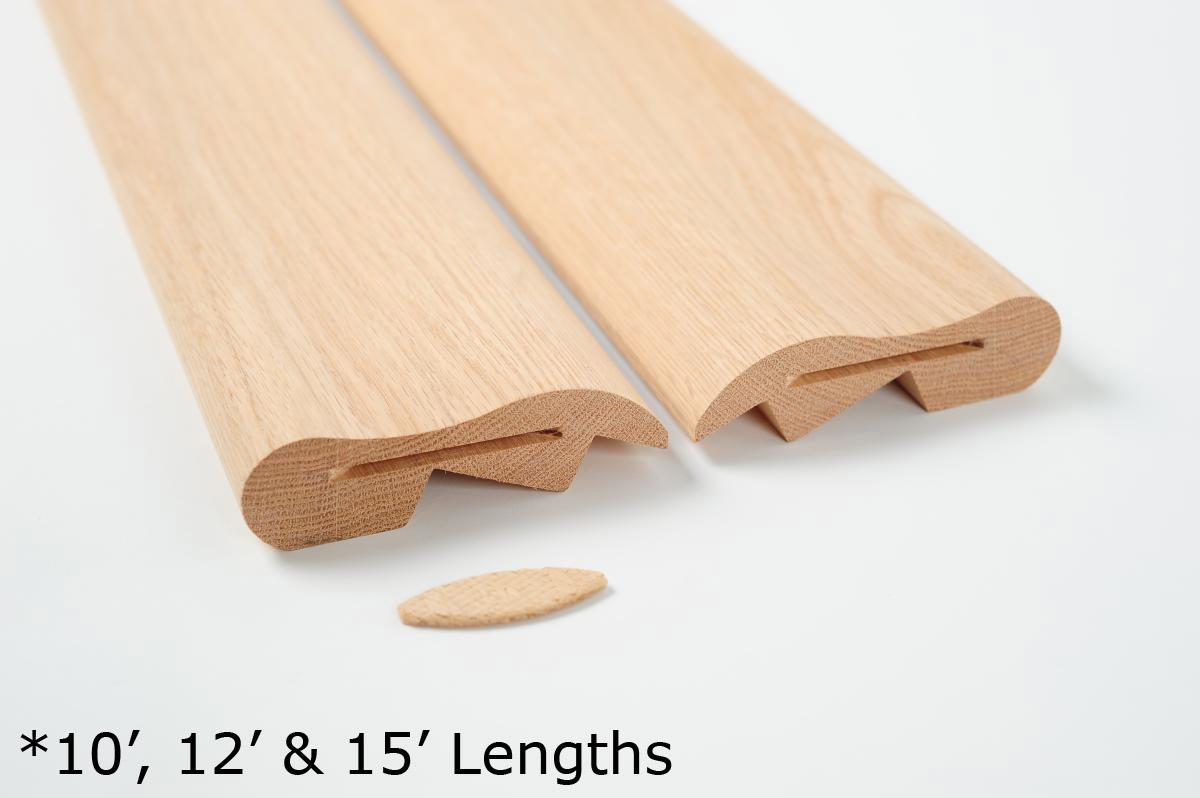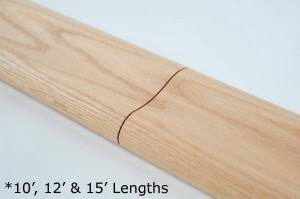 Option 2: We also sell and ship longer lengths (up to 16' long) uncut by LTL truck. Please call 844-BAR-RAIL or email info@hardwoodsincorporated.com with a complete shipping address for a freight quote.
12. How well do the bar rail radius corners match up with the straight bar rails?
Good question. We match the bar rails up very close, however, final fitment and sanding are required to feather the seams in to perfection.
13. Can bar rail moldings and parts be purchased and picked up at your facility in Maryland?
14. Can I order my bar rail moldings pre-mitered and cut to specific sizes?
No. We do not provide this service. Our entire bar rail moldings are shipped slightly over sized to be cut and fit on the job-site.
15. Can or should the bar rail molding be pre-finished before installation?
16. Do I need to cut the main bar top & sub top on a radius to install the BR475, BR475-S & BR550 bar rail?
Yes. All 3 of these bar rail corners in either the 6" or 12" require cutting the main & sub bar top. We supply cutting templates and instructions with each order and have the same available here:
17. Can your bar rails be installed on existing bar tops that do not have the double layer of plywood?
Yes. Please see the drawings below that show various options. However, we do not recommend 3/4″ bar tops made from 1 layer of wood as they can bend and warp over time from leaning on the bar rail.

Add a Subtop to an Existing Bar for Bar Rail
---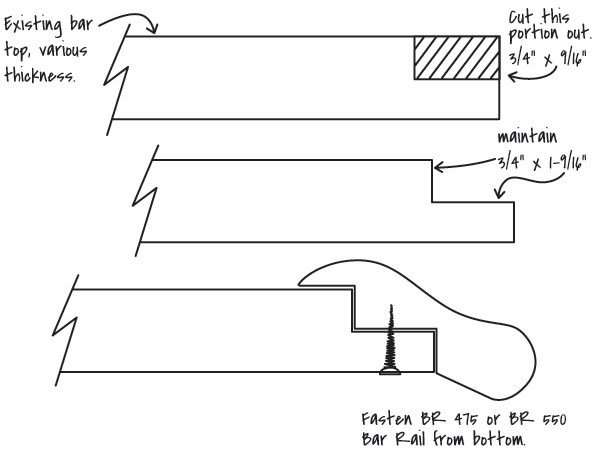 How to Modify an Existing Bar Top for Bar Rail
---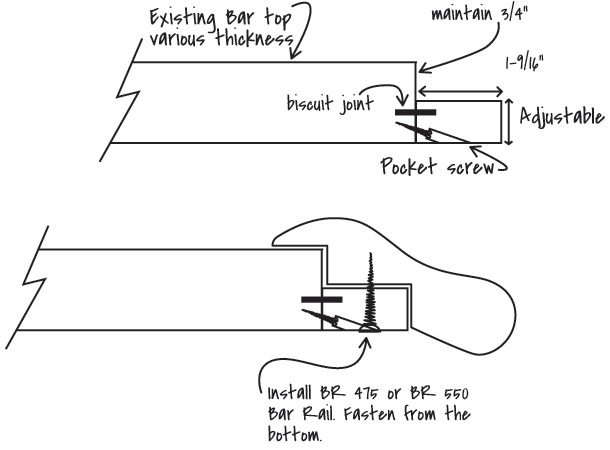 Installing Bar Rail on an Existing Bar Top
18. Can I purchase the mini sub top and blocking required to adapt my existing bar top to accept the BR475 & BR550 bar rail from Hardwoods Inc?
19. Can your bar rails be attached to granite and/or 3 cm granite?
Yes. The sub top needed can be attached to the bottom of the granite as shown and built up to accommodate the standard bar rail.
You can also cut a notch from the existing bar top to accommodate the bar rail
We also offer a bar rail that has a 3cm top notch, BR475-3CM.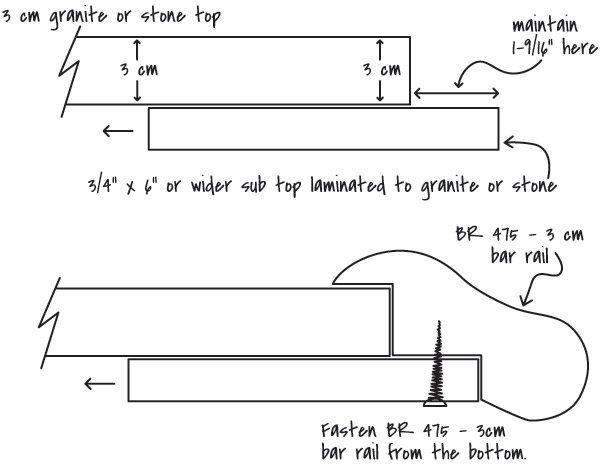 20. Can I get bar rail moldings made in custom species of wood other than what is offered online?
Yes. Please submit your wood specie request along with length requirements and model number to info@hardwoodsincorporated.com. If the material is available and suitable we WILL make it for you.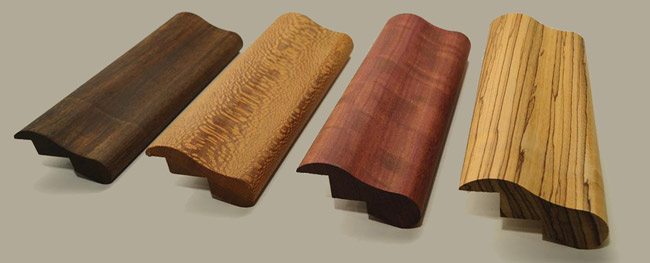 Custom bar rails of wenge, lacewood, purpleheart & zebrawood.
21. I already have a bar with square corners. Can I modify my bar and add a curved edge?
Yes! Please see our video below on modifying an existing square bar top.
This video is intended to demonstrate in general terms one method of preparing am existing bar top for installation of our bar rail radius corners. In this case, we are using our BR475-S -6" 90 degree radius. The tools required for this are a router, a flush cut router bit with the bearing on top, jig saw, sander, drill and drill bits, 1-1/4" wood screws and woodworkers glue.
Printable Cutting Instructions and Templates
Be sure to print these templates at full size for accuracy.
Radius Template Instructions 6″ Radius Template 12″ Radius Template
22. What is a spoil board and what size spoil board do I need?
A spoil board is a piece of wood used under the bar rail molding to help hold it in place when cutting or mitering as shown on the bar rail installation video. Each of our bar rail moldings require a different size spoil board size as listed on the chart below. Safety first, always wear eye protection and use clamps or fixtures to hold the molding securely in place when cutting. Unsure? Contact us before you cut.
H dimension sets vertical against the miter box fence D = Depth
BR158 – H = 1-5/8" x D = 1"
BR350 – H = 1-5/8" x D = 2-1/8"
BR450 – H = ¾" x D = 1-3/4"
BR475 – H = 2" x D = 1" *Actual dimensions
BR475-3CM – H = 2-3/8" x D = 1"
BR475-S – H = 1-7/8" x D = 1" * NOTE: The BR475-S bar rail molding ships in two pieces unassembled, the bar rail portion is to be cut and installed first and the apron last.
BR550 – H = 1-7/8" x D – 1-1/4"
BR650 – H = 2-1/8" x D – 1-1/4"